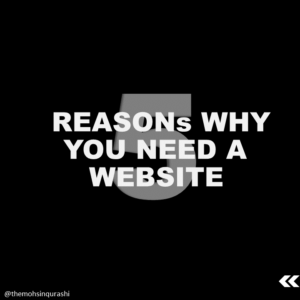 what is a Website?
"A website is a collection of web pages and related content that is identified by a common domain name and published on at least one web server."
Yes!! this is the definition of the website but why you want these collection of web pages for your business ?
5 Reason Why You And Your Business Need Website?
Every day more and more shopper are searching for your products and services on internet, even you also search solution for your problem on inter net that's why you are reading this blog. what happened if I haven't write this blog on this website. You couldn't find about sevenskies. Exactly the same why people are looking for your products and services on internet could not reach to you because you don't have a website .
This is not only the reason why you need the website but there more 5 major reason and that are:
A website give you the best ROI (Return of Investment) as compared to any other digital platform. in this digital era you can easily get a website (sevenskies studio provide exemplary website services) in very low budget. so,
How to calculate the ROI of a website?
in a simple word, Divide the sum of all the money invested on a website with the total response you get from your website.
Today 80%  shopper don't trust a business without a website. 
We live in digital world where an average of 4+ hours people are online in a day. So, with so much time of thinking and doing search on google, shoppers don't find a business without a website enough credible to do trade in most of the cases.
 Today 75% shoppers look for the product and services on internet and this rate is increasing day by day.
As more and more shoppers turning on internet and internet shopping is becoming more easy and comfortable. Australians devote an average of 23+ hours online each week and up to five hours per day on their handheld devices. With so much on internet your website can be reach to new buyers who are far from your geographical shop is located.
How your website can help you to beat your business?
Simple answer, 98% internet user visit on the first website that comes on the search result.
How can you rank top of the search?
By optimizing correct key words, analysis, feedback, and reviews that we call SEO. One of the many opportunities to threaten the industry is to get a leading role in the search results list.
In your website  you are absolutely in charge of how you put your business on website. You can show all your products, services, offers, work and all the additional information about your website.
In your website you will also highlight your promotions, ratings, work example and all the features that will relieve the discomfort of your visitors.
If I look at all the points already addressed in this article, they're already in a positive spot. They seem to be more trustworthy on the market, have established their initial trust with the public, showcase their products/ services as well as gain from Google searches.
Need a beautiful and fully loaded website?contact sevenskies studio today.
[xs_social_share provider="facebook,twitter,instagram" class="custom-class"]